Assault Bot X-4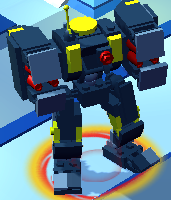 Champion
Assault Bot X-4 is a champion in the Space Command HQ located in the Space Colony.
Abilities
Assault Bot X-4 is a Robo Artillery unit.
He fires one missile at a time against you.
He can do a kick attack which pushes your Minifigure away.
When damaged he summons two Mercenary Bully units.
When damaged more severely, two Laser Cannons pop up to fight you.
None. Robo Artillery are not considered Alien Machines.
Battle Tactics
Try not to get kicked.
After you defeat him, the barriers open, so you can move on and not have to fight the laser cannons.
Gallery
Ad blocker interference detected!
Wikia is a free-to-use site that makes money from advertising. We have a modified experience for viewers using ad blockers

Wikia is not accessible if you've made further modifications. Remove the custom ad blocker rule(s) and the page will load as expected.