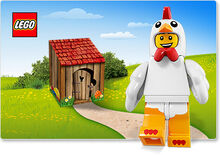 In March the Lego Shop (French but maybe european too ?)give a free Chicken Suit Guy figures when you buy for 20€ of Lego on the site. If it's like the last gift (Nexo Knight Battle Station), it's the box who transform in the little house we can see behind the figure.
I doubt there is a code to unlock the chicken suit guy in game, but it's a good opportunity to add this awesome minifigures at your real collection ;)
Ad blocker interference detected!
Wikia is a free-to-use site that makes money from advertising. We have a modified experience for viewers using ad blockers

Wikia is not accessible if you've made further modifications. Remove the custom ad blocker rule(s) and the page will load as expected.