Cliffside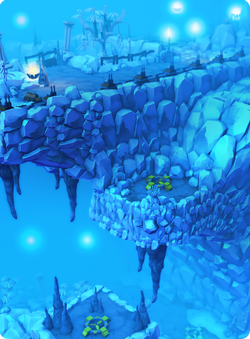 Requirements
You have to be Level 20.
Worlds Accessible
Mythology Mountains
Enemies
Breeze-Maw Berserker, Breeze-Maw Mystic, Skeleton Axeman, Skeleton Archer, Swiftblade Gorgon, Little, Charred Gorgon, Slither.
Major Characters
none
Interactive map
"These snowy cliffs are the home of gorgons and ogres, only the bravest would dare enter."
The Cliffside is the first Pocket Adventure in the Mythology Mountains.
Minifigure parts
The following minifigure parts can be found here:
Character Points
Notes
You do not have to fight a room full of Mystics. Little, the ogre, will jump in and bust them. They will come back as skeletons
You do not have to fight Little. Lead him back to your jump point and he will disappear.
Pairs of Gorgons may keep appearing out of the caves even after Slither is smashed.
Gallery
Ad blocker interference detected!
Wikia is a free-to-use site that makes money from advertising. We have a modified experience for viewers using ad blockers

Wikia is not accessible if you've made further modifications. Remove the custom ad blocker rule(s) and the page will load as expected.