Disco Diva

'Everything comes back sooner or later!'
Stats
| | |
| --- | --- |
| Magic | Builder |
Abilities

Back in Style
You project your delightful voice at you enemies. It's disco time!

Disco Party
You get the party started! Partying increases your allies' damage, defense, and creativity!
Skills
Disco Diva is a minifigure from Series 13.
Biography
When the Disco Dude went back in time, the Disco Diva stayed in the present day. She knew that she didn't have to go looking for a golden age of disco - if she waited long enough, it would come to her. And she was right!
All over the LEGO® world, disco is suddenly making a big comeback. Everybody is wearing disco fashions, playing disco music, and dancing and roller-skating to the flashing disco lights. Maybe it's just the natural cycle of trends, or maybe the Disco Dude somehow changed history. The Disco Diva doesn't care either way - right here, right now is exactly when and where she wants to be!
Availability
The Disco Diva is available by Series 13 codes, which can be found in Series 13 blind bag.
She is the reward for completing the pocket adventure Cave of the Exiled.
Upgrades
 
 
 

Meltdown
If you smash an enemy with your special attack it will leave behind a damaging field of energy.

Smash and Dash
After you use your special attack, you will get a speed boost.

Elemental Affinity
You deal more damage if your minifigure Element matches the location Element.
 
 

Sponge
When you hit an enemy, you heal a small amount.

Second Wind
When your health drops below 20%, you get healed. This will only happen once every 10 minutes.
 

Fast
You move faster.
 
 
 

Resourceful
You find more power-ups.

Hunter
After you smash an enemy, you will get a speed boost.
 

Slippery Power
If you have not been hit in the last 5 seconds, you get a Power boost.
 

Strong
You do more damage.

Fast
You move faster.
 

Smart
You build faster.
 
 
Gallery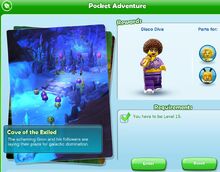 Ad blocker interference detected!
Wikia is a free-to-use site that makes money from advertising. We have a modified experience for viewers using ad blockers

Wikia is not accessible if you've made further modifications. Remove the custom ad blocker rule(s) and the page will load as expected.