Dragoon Dwelling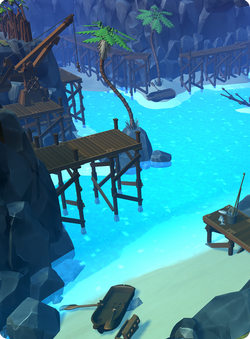 Requirements
You have to be Level 3.
Worlds Accessible
Isle of Yarr
Enemies
Dragoon, Jungle Trickster, Cannon, Musketeer, Tyrant, the Drill Sergeant, Medic
Major Characters
None
Interactive map

"The training grounds of the harsh drill master Tyrant and his new recruits."
The Dragoon Dwelling is a Pocket Adventure on the Isle of Yarr in the Pirate World.
Minifigure Parts
The following minifigure parts could be found here:
(Free-to-Play)
The following minifigure parts can be found here:
Champions
The Champion is Tyrant, the Drill Sergeant.
Notes
Trivia
This Pocket Adventure was renamed after open beta from Farm Cave to Dragoon Dwelling.
The in-game UI for the Pirate World Achievements lists this as Dragoon's Dwelling, however the Pocket Adventure name is Dragoon Dwelling.
Conquering the dungeon used to involve defeating the miniboss (champion). Now it requires defeating him and about 20 enemies.
Gallery
Ad blocker interference detected!
Wikia is a free-to-use site that makes money from advertising. We have a modified experience for viewers using ad blockers

Wikia is not accessible if you've made further modifications. Remove the custom ad blocker rule(s) and the page will load as expected.