Janos the Unforgiving

Champion
Janos the Unforgiving is a champion in the Mythology Mountains just past the Armory entrance.
Abilities
Janos the Unforgiving is a Breeze-Maw Mystic. He can cast spells to create a fire pit and heal himself or an ally.
Defeat Janos the Unforgiving for 25 points each as Alien Avenger (9), Grandpa (10), Scientist (11), Monster Rocker (14).
Battle Tactics
Avoid fighting him with a lot of other enemies present.
Try to break him before he can heal himself.
Stay out of the fire pits.
Gallery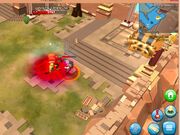 Ad blocker interference detected!
Wikia is a free-to-use site that makes money from advertising. We have a modified experience for viewers using ad blockers

Wikia is not accessible if you've made further modifications. Remove the custom ad blocker rule(s) and the page will load as expected.