This article is a stub. You can help the LEGO Minifigures Online Wiki by expanding it.
No reason was given.
Jester's Crony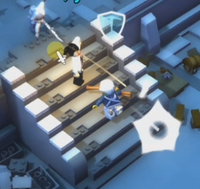 Regular Enemy

Jester's Crony is an enemy that looks like the boss of the Ruined Fort, the Jester, but is a different color.
Location
Jester's Crony may only appear in the Ruined Fort, and might not be seen in the Lost Creations.
Abilities
Variants
Jester's Crony is similar to the Jester in appearance with the only variation being color.
Champions
Gallery
Ad blocker interference detected!
Wikia is a free-to-use site that makes money from advertising. We have a modified experience for viewers using ad blockers

Wikia is not accessible if you've made further modifications. Remove the custom ad blocker rule(s) and the page will load as expected.