Mercenary Bouncer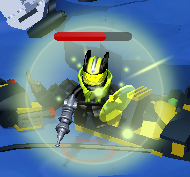 Regular

The Mercenary Bouncer is a Space Mercenary enemy at the Space Colony and Planet's Dark Side.
Abilities
Shoots laser blast.
Shoots plasma ball.
Punches the Minifigure.
Sometimes has modest force field.
Variants of this Enemy
Champions of this Enemy
Trivia
Gallery
Ad blocker interference detected!
Wikia is a free-to-use site that makes money from advertising. We have a modified experience for viewers using ad blockers

Wikia is not accessible if you've made further modifications. Remove the custom ad blocker rule(s) and the page will load as expected.