Monkey Cave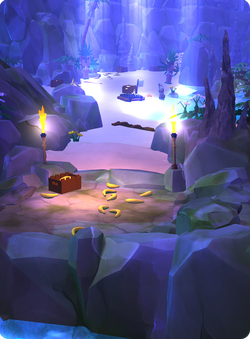 Requirements
You have to be Level 3.
Worlds Accessible
Isle of Yarr
Enemies
Jungle Trickster, Monkey Kong.
Major Characters
None
Interactive map
 "On top of a throne of bananas, the great Monkey Kong has made this cave his castle."
The Monkey Cave is a Pocket Adventure on the Isle of Yarr in the Pirate World.
Minifigure parts
The following minifigure parts could be found here:
(Free-to-Play)
The following minifigure parts can be found here:
(Buy-to-Play)
Notes
Trivia
Conquering this dungeon used to require one to defeat only the champion.
Gallery
Ad blocker interference detected!
Wikia is a free-to-use site that makes money from advertising. We have a modified experience for viewers using ad blockers

Wikia is not accessible if you've made further modifications. Remove the custom ad blocker rule(s) and the page will load as expected.