Moon Gazer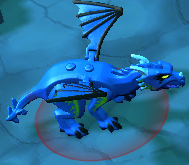 Regular Enemy
Moon Gazer is a drake (dragon) enemy located in the Medieval World.
Abilities
Long-range attack: blue fireball?
Can heal itself or allies.
Variant Names
Champions
Lost Gazer. Location: Lost Creations. This one can heal to full in about a second, so it's very difficult to beat alone, unless you have a special attack, like a stun, to interrupt it.
Smash 50 Drakes for 50 points as

(10) Medusa,
(11) Diner Waitress, Barbarian, Saxophone Player, and Lady Robot, and
(13), Galaxy Trooper (for 100 points).
Battle Tactics
Break it or its ally before it can heal.
Gallery
Ad blocker interference detected!
Wikia is a free-to-use site that makes money from advertising. We have a modified experience for viewers using ad blockers

Wikia is not accessible if you've made further modifications. Remove the custom ad blocker rule(s) and the page will load as expected.