Mysterious Crystal Cave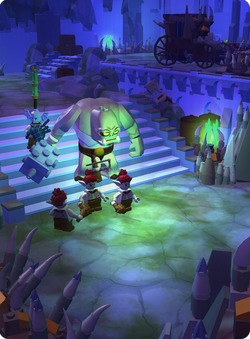 Requirements
You have to be level 10.
Worlds Accessible
None
Enemies
Crooked Tooth Ruffian, Razorback, Tic, Tac, Toe
Major Characters
None
Interactive map
Not available
"The bright lights from Crystals sometimes make Gremlins crazy, and this place is full of both."
The Mysterious Crystal Cave is a Pocket Adventure in the Medieval World. It can be accessed from Enchanted Forest.
Defeat Tic and other enemies to reveive Loot Chests and the Prospector minifigure.
Defeat all three champions to conquer the area and be able to replay in 8 hours.
Minifigure Parts
The following Minifigure Parts could be found here:
(Free-to-Play)
The following Minifigure Parts can be found here:
(Buy-to-Play)
Champions
Tic, Tac, Toe are three Sweet Tooth Fizzlers. Together they count as the boss to beat for this Pocket Adventure.
Unlike champions elsewhere, Tac and Toe never drop Loot Chests.
Notes
Gallery
Ad blocker interference detected!
Wikia is a free-to-use site that makes money from advertising. We have a modified experience for viewers using ad blockers

Wikia is not accessible if you've made further modifications. Remove the custom ad blocker rule(s) and the page will load as expected.