Pirate Trials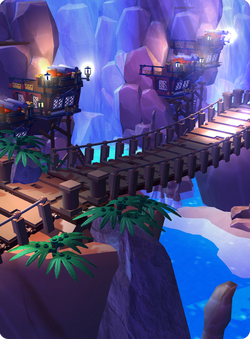 Requirements
Level 4, Invited to pass the Pirate Trials
Worlds Accessible
The Pegleg Mermaid Tavern and Isle of Yarr by portals; LEGO Center by homestone.
Enemies
Jungle Trickster, Fire Monkey and Captain Pete.
Major Characters
Captain Pete and the Swashbuckler.
Interactive map
"To become a true pirate, you must complete the pirate trials and earn the friendship of Captain Pete."
The Pirate Trials is a Story Dungeon accessed in The Pegleg Mermaid Tavern in the Pirate World.
Associated Quests
Each quest must be completed before starting the next.
Minifigure Parts
The following minifigure parts can be found here:
Story Quests
You can do these only once (for reward).
Gallery
Ad blocker interference detected!
Wikia is a free-to-use site that makes money from advertising. We have a modified experience for viewers using ad blockers

Wikia is not accessible if you've made further modifications. Remove the custom ad blocker rule(s) and the page will load as expected.