Planet's Dark Side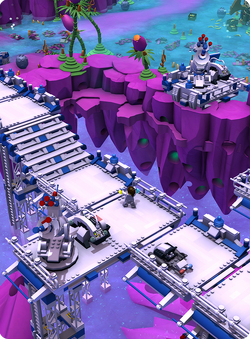 Requirements
Level 15, Learn about the Advanced Research Outpost, You need to have collected at least 12 minifigures to enter.
Worlds Accessible
Space Colony
Enemies
Blast Spore, Gas Spore, Slime Spore, Ambush Spore, Gunblossom, Mantis Nymph, Mantis Lord, Mercenary Bully, Mercenary Schemer, Robo Artillery, Vespid, The Triffid, Alien Scoundrel, Alien Rascal, Mastermind, Abducted Doctor, Abducted Medic, Vespid Colony, Kruun, Super Genius, Abducted Shaman, Photon Blaster, Megamind, Mind Lord Taggoth, Mercenary Bouncer, Laser Cannon, Korard, Mercenary Captain, Mercenary Muscle.
Major Characters
Space Miner, Alien Leader, Space Marine/Railhead
Interactive map
Planet's Dark Side is the second Adventure Zone of the Space World. The first is Space Colony.
Minifigure Parts
The following minifigure parts can be found here:
Associated Quests
Gather research data within the Swamp.
Collect information about the Ancient Ruins.
Cripple the Alien Invasion Force.
Sabotage the Crystal Refinery
Alien Command Center: For 50 points each, conquer as Cyclops(9), Decorator(10), Skydiver(10), Pretzel Girl(11), Scientist(11), Lady Robot(11), Fairytale Princess(12), Genie Girl(12), Jester(12), Hollywood Scarlet(9) or Prospector(12).
Champions
Champions are usually noted by a red and orange circle around them. Occasionally, breaking them results in a drop of free and member Loot Chests.
Story Quests
These can be done only once.
Report to the Space Miner. Reward: 50 Diamonds.
Find the source of the strange signal. No reward.
Jump through the Portal. Reward: 10 Diamonds.
Infiltrate the Alien Facility. No Reward.
Follow the Transport Beams. Reward: 10 Diamonds.
Use the Transporters to reach the Hidden Base. Reward: 10 Diamonds.
Enter the Hidden Base. (See Shadow Centurion Base, above.) Reward: 50 Diamonds.
Champions: (see above).
Dungeons: (see above).
Smash 50 Alien Machines for 50 points as:

(9) Mermaid, Heroic Knight, Forest Maiden, Battle Mech,
(11) Constable, Yeti,
(12) Batle Goddess, and Hun Warrior.
Notes
Straying from the path can put you in areas of swamp that cause damage to your minifigure.
Gathering research and information can be had by breaking enemies, smashing objects, and building scientific instruments.
Trivia
Grandpa parts used to be available in Planet's Dark Side, but it's since been replaced by Roman Emperor parts.
Gallery
Ad blocker interference detected!
Wikia is a free-to-use site that makes money from advertising. We have a modified experience for viewers using ad blockers

Wikia is not accessible if you've made further modifications. Remove the custom ad blocker rule(s) and the page will load as expected.