Ponos the Pitcher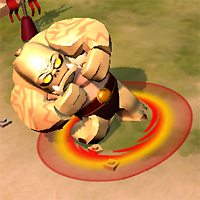 Champion

Ponos the Pitcher is a Champion at the Mythology Mountains located after the Skyforge entrance.
Abilities
Ponos the Pitcher is an Ogre Rockcrusher. When attacking, he hurls boulders or Crooked Tooth Ruffians, who will then attack. He loves to beat his chest and roar.
Defeat Ponos the Pitcher as Waiter (9), Bumblebee Girl (10), Diner Waitress (11), Barbarian (11), Dino Tracker (12), Piggy Guy (12), Classic King (13), Samurai (13), Plant Monster (14), Animal Control (15), Faun (15), Flying Warrior (15), Shark Suit Guy (15), or Tribal Woman (15) for 25 points each.
Trivia
Gallery
Ad blocker interference detected!
Wikia is a free-to-use site that makes money from advertising. We have a modified experience for viewers using ad blockers

Wikia is not accessible if you've made further modifications. Remove the custom ad blocker rule(s) and the page will load as expected.