Siege Command Room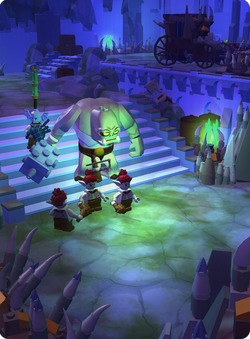 Requirements
You have to be level 10.
Worlds Accessible
None
Enemies
Crooked Tooth Brute, Crooked Tooth Piper, Crooked Tooth Hunter, Crooked Tooth Brawler, Crooked Tooth Ruffian, Siegemaster Orrok
Major Characters
None
Interactive map
<imap map-id=1784 />
"Orrok, commander of the Trolls, claimed this cave for himself. This is his moss, these are his rocks."
The Siege Command Room is a Pocket Adventure from the Kingdom in the Medieval World.
Minifigure Parts
The following Minifigure Parts could be found here:
(Free-to-Play)
The following Minifigure Parts can be found here:
(Buy-to-Play)
Character Points
Notes
Gallery
Ad blocker interference detected!
Wikia is a free-to-use site that makes money from advertising. We have a modified experience for viewers using ad blockers

Wikia is not accessible if you've made further modifications. Remove the custom ad blocker rule(s) and the page will load as expected.