Spider's Nest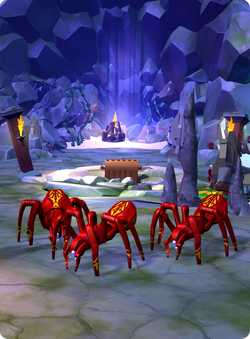 Requirements
You have to be level 9.
Worlds Accessible
None
Enemies
Spider Egg, Spiderling, Warrior Arachnid, Itsy Bitsy.
Major Characters
None
Interactive map
Not available
"Creepy crawling long legged creatures are what you will find within the Spider's Nest."
The Spider's Nest is a Pocket Adventure in the Kingdom in the Medieval World. Defeat Itsy Bitsy and other enemies to receive Loot Chests and the Spooky Girl minifigure.
Minifigure Parts
The following minifigure parts could be found here:
(Free-to-Play)
The following Minifigure Parts can be found here:
(Buy-to-Play)
Character Points
Conquer the Spider's Nest as Forest Maiden (9), Sea Captain (10), Lifeguard Guy (12), Carpenter (13), Classic King (13), Square Foot (14), Faun (15), or Flying Warrior (15) for 25 points each.
Conquer the Spider's Nest as Waiter (9), Tomahawk Warrior (10), Diner Waitress (11), Piggy Guy (12), or Paleontologist (13) for 50 points each.
Gallery
Ad blocker interference detected!
Wikia is a free-to-use site that makes money from advertising. We have a modified experience for viewers using ad blockers

Wikia is not accessible if you've made further modifications. Remove the custom ad blocker rule(s) and the page will load as expected.