Spider Mound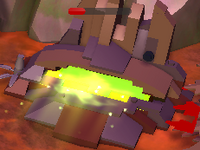 Regular Enemy
Spider Mound is a generator enemy found in the Enchanted Forest.
Abilities
Spider Mound does not attack directly.
Every so often, it lights up and summons a Warrior Arachnid of the yellow variety, called Summoned Spider.
Variants
Small Spider Mound looks similar, but smaller, and summons spiderlings instead.
Champions
Achievements
Spider Mound counts toward the monster-smash Achievement for Striker Minifigures.
Gallery
Ad blocker interference detected!
Wikia is a free-to-use site that makes money from advertising. We have a modified experience for viewers using ad blockers

Wikia is not accessible if you've made further modifications. Remove the custom ad blocker rule(s) and the page will load as expected.