Swamp Tunnel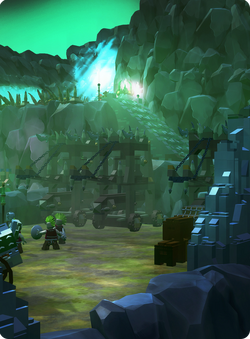 Requirements
You have to be Level 10.
Worlds Accessible
None
Enemies
Mudfoot Brawler, Mudfoot Hunter, Mudfoot Crusher, Mudfoot Piper, Mudfoot Shaman, Warchief Clubhead.
Major Characters
None
Interactive map
Not available
"In the wet safety of the perilous swamp, the Warchief readies his troops."
The Swamp Tunnel is a Pocket Adventure in the Medieval World. It can be accessed from the Enchanted Forest.
Minifigure Parts
The following Minifigure Parts could be found here:
(Free-to-Play)
The following Minifigure Parts can be found here:
(Buy-to-Play)
Character Points
Conquer for 25 points each as
Conquer for 50 points each as
Notes
Catapult Smashies often look smashed, even before they are.
Gallery
Ad blocker interference detected!
Wikia is a free-to-use site that makes money from advertising. We have a modified experience for viewers using ad blockers

Wikia is not accessible if you've made further modifications. Remove the custom ad blocker rule(s) and the page will load as expected.