Tark, the Villainous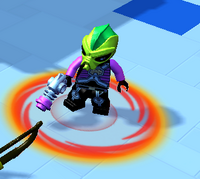 Champion
 Tark, the Villanous is a Champion in the Space Command HQ found on the Space Colony.
Abilities
Tark, the Villanous is an Alien Scoundrel who's accompanied by a couple allies.
He shoots three photon missiles in a cone at you. This attack can deal high amounts of damage when the player intercepts the three missiles. 
When damaged, he summons three Mercenary Bully units.
When damaged more, he summons two Alien Scoundrels.
None.
Battle Tactics
You can defeat his allies first, so you don't get overwhelmed with enemies.
If you attack from a distance, you might only be hit with one of his shots, as opposed to all three at close range.
Gallery
Ad blocker interference detected!
Wikia is a free-to-use site that makes money from advertising. We have a modified experience for viewers using ad blockers

Wikia is not accessible if you've made further modifications. Remove the custom ad blocker rule(s) and the page will load as expected.