Temper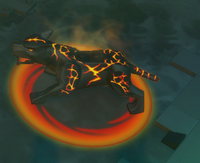 Champion

Temper is a Fire Hound Champion on Volcano Island.
Abilities
Bites.
When smashed he explodes, causing damage.
Defeat Temper for 25 points as
Battle Tactics
After you smash him, get out of the way of the explosion.
Gallery
Ad blocker interference detected!
Wikia is a free-to-use site that makes money from advertising. We have a modified experience for viewers using ad blockers

Wikia is not accessible if you've made further modifications. Remove the custom ad blocker rule(s) and the page will load as expected.