The Jester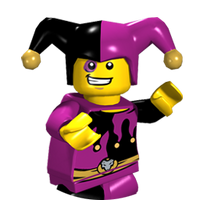 Boss

The Jester is a boss encountered at the end of The Kingdom adventure world in the Ruined Fort story dungeon. He attacks by throwing daggers and the occasional Jack-in-the-box which explodes when you're near. As a special attack, the Jester will split up into four different individuals and throw nothing but Jack-in-the-boxes at your minifigure.
Storyline Role
The Jester steals the King's crown for Pieromancer Elementius and can be seen sneaking through the background of one of the cutscenes. The Jester then is found in the Ruined Fort giving the crown to his superior, Elementius. After you battle him, he is remorseful and asks for forgiveness joining in the quest.
Strategy
Stay at a distance and use a ranged minifigure to attack him. When he splits into four different Jesters switch to a builder minifigure and build the quickbuild in the middle of the battle. The fake Jesters then float in the air, and proceed to crash into the ground and vanish with a purple explosion. After this, continue to attack by range and repeat. 
Gallery
Enemies
Regular enemies
Alpha Wolf · Ballista · Bewitched Treeman · Cannon · Corsair · Crimson Leg Crawler · Crooked Tooth Brute · Crooked Tooth Crusher · Crooked Tooth Crusher · Crooked Tooth Defender · Crooked Tooth Fizzler · Crooked Tooth Hunter · Crooked Tooth Hunter · Crooked Tooth Hurler · Crooked Tooth Piper · Crooked Tooth Ruffian · Crooked Tooth Shaman · Crooked Tooth Smasher · Desperado · Dragon Cult Brawler · Dragon Cult Crusher · Dragon Cult Piper · Dragoon · Ember Hatchling · Fire Hound · Fire Monkey · Forest Leafling · Forest Leafling · Forest Treeman · Grenadier · Grey Wolf, Summoned Wolf, Boom Shroom, Spore Shroom, Sweet Tooth Fizzler · Hophop Shroom · Hophop Shroom · Hunter · Icefoot Ruffian · Jester's Crony · Jungle Trickster · Lieutenant Gruffy · Medic · Mudfoot Brawler · Mudfoot Crusher · Mudfoot Defender · Mudfoot Hunter · Mudfoot Piper · Mudfoot Shaman · Musketeer · Pirate Cannon · Razorback · Scallywag · Scout · Skeleton Defender · Skeleton Fighter · Skeleton Fighter Crooked Tooth Brawler · Skeleton Musketeer · Skeleton Swashbuckler · Skeleton Vanguard · Spider Egg · Spider Mound · Spiderling · Summoned Gremlin Spawned Gremlin · Moon Gazer · Summoned Skeleton · Summoned Spider · Sweet Tooth Fizzler · Sweet Tooth Ruffian · Tiger · Witch Doctor
Champions
Arrgo Chief of Cargo · Beastmaster Wulfgar · Big Bad Wolf · Black Widow · Bork, Guardian of Fire · Bull the Armsmaster · Captain Dreadleg · Captain Pete · Charr the Gatekeeper · Chlora the Fungomancer · Chug · Chunk the Tiger · Crazy Kotaki · Crikey the Kraken · Crimson Leg Gargantuan · Derp the Internet Troll · Fireling · Giant Spider · Gnaw, Guardian of Strength · Grollsh, the Nightkeeper · Guardsman Bob · Gunnar Grenade · Harry Grenade · Hoodai · Itsy Bitsy · Jester · Karna Itta · Krash, Arena Champion · Krook, Guardian of War · Lieutenant Gruffy · Maggut the Beast Tamer · Mandreas · Monkey Kong · Mukko Serioso · Ouch Ouch · Packmaster Uhrik · Pieromancer Elementius · Quicksword Billy · Rack · Rall · Rattely Bonesly · Redwing the Firequeen · Rezaruh the Ancient · Rootbrick · Schweethurt · Siegemaster Orrok · Skimpy Bob · Skram Gatecrasher · Smuggy Totembound · Temper · The Bridge Troll · The Chamberlain · The Weaver · Tic, Tac, Toe · Tikka Bomba · Totemus Maximus · Two Eyed Willy · Twonky the Laboratorist · Tyrant, the Drill Sergeant · Uggluk Gatekeeper · Umad Thundercrusher · Village Outcast · Warchief Clubhead · Warchief Grogrog · Warlock Zug Zug · Wrinkles Barrelgut · Zephyr, the Aeromancer
Ad blocker interference detected!
Wikia is a free-to-use site that makes money from advertising. We have a modified experience for viewers using ad blockers

Wikia is not accessible if you've made further modifications. Remove the custom ad blocker rule(s) and the page will load as expected.