Tic, Tac, Toe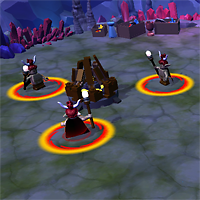 Champion

Tic, Tac, Toe are three Crooked Tooth Fizzler Champions in the Pocket Adventure Mysterious Crystal Cave.
Defeat all three to conquer the dungeon.
Defeat Tic to receive free and member Loot Chests; the others never drop chests.
Abilities
Energy or magic attack from staff.
Can teleport.
Cast brown cloud spell on each other.
Cast light column on themselves.
Achievements
Smashing Tic the first time results in the Crystal Palace Achievement and 50 points.
Gallery
Ad blocker interference detected!
Wikia is a free-to-use site that makes money from advertising. We have a modified experience for viewers using ad blockers

Wikia is not accessible if you've made further modifications. Remove the custom ad blocker rule(s) and the page will load as expected.