Tlakk, the Sentinel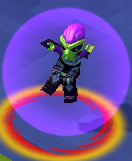 Champion
Tlakk, the Sentinel is the champion in the Alien Command Center on the Planet's Dark Side.
Abilities
Tlakk, the Sentinel is a Mastermind.
None.
Battle Tactics
Use Minifigures of the Tech Element.
Don't waste time breaking his summoned allies, as he can summon some more.
Break his other allies first until it's just him and the two summoned ones.
Try moving around Tlakk in a circle to avoid attacks.
The Witch Doctor's attack is a lot stronger in Space World than before; move before it drops on you.
The barriers fall when Tlakk is defeated. You may then be able to run away from his allies.
Gallery
Ad blocker interference detected!
Wikia is a free-to-use site that makes money from advertising. We have a modified experience for viewers using ad blockers

Wikia is not accessible if you've made further modifications. Remove the custom ad blocker rule(s) and the page will load as expected.