Village Outcast
Champion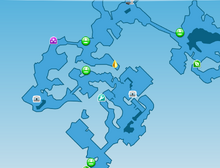 Village Outcast is a Witch Doctor Champion on the Isle of Yarr
Abilities
He can produce a summoned skeleton.
He can drop a tiki on a minifigure.
He fights with a knige in close combat.
His immediate allies are two Skeleton Defenders.
Village Outcast does NOT count towards the 'Smash 50 Witch Doctors' Achievement.
Battle Tactics
When the red target appears, move so you are not hit.
When the Skeleton Defenders' shield is on, you cannot damage them.
Gallery
Ad blocker interference detected!
Wikia is a free-to-use site that makes money from advertising. We have a modified experience for viewers using ad blockers

Wikia is not accessible if you've made further modifications. Remove the custom ad blocker rule(s) and the page will load as expected.