Winterland Village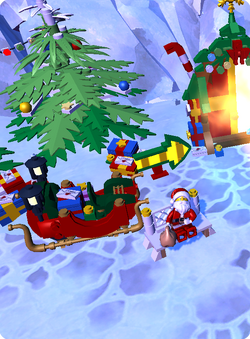 Requirements
Worlds Accessible
Isle of Yarr
Enemies
Major Characters
None
Interactive map
Not available
"Ho ho ho! The Winter Holidays are here! Gather up and share the Holiday Spirit!"
Winterland Village is the 2014 Holiday Season special play area available through January 5, 2015. Travel to the Winterland Village through the Isle of Yarr or use the shortcut directly from the LEGO Center. Santa sits in the center of Winterland Village, just outside the entrance to Winter Pass. Enter Winterland Village and talk to Santa. From here you may enter the Winter Pass Pocket Adventure and also receive the Holiday Spirit!
Minifigure Parts
The following minifigure parts can be found in the Winter Pass Pocket Adventure found in the Winterland Village:
Pocket Adventures
Defeat The Crunch in the Winter Pass to earn free and member Loot Chests.
Holiday Spirit
Upon completion of Winter Pass you will receive the special Holiday Spirit Award to share with friends and others players. Talk with Santa in Winterland Village or at the LEGO Center to give him the Holiday Spirit and receive its benefits. You may also receive the special Holiday Spirit Awards when other players talk with Santa and you are close by. With the Holiday Spirit you will be able to collect the Green Stars by smashing Smashies and Enemies or building Buildies. Lots of Stars to be earned during this Holiday Season!
Gallery
Ad blocker interference detected!
Wikia is a free-to-use site that makes money from advertising. We have a modified experience for viewers using ad blockers

Wikia is not accessible if you've made further modifications. Remove the custom ad blocker rule(s) and the page will load as expected.