Witch Doctor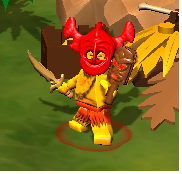 Regular Enemy

Witch doctors are enemies that can be found mostly in Pirate World, but players can also find them in Medieval World, Space World, and Lost Creations.
Abilities
Witch doctors are well known to cause a lot of damage in one single attack with their totem-summoning attack.
In close combat, a Witch Doctor will use a knife instead.
In Lost Creations, a Witch Doctor can cause 1000 damage to a Level 30 player with one blow.
Variants
Abducted Doctors. In Space World, Witch Doctors can be summoned by Masterminds, and they take on the name of Abducted Doctors. However, they are no different than those in Pirate World in terms of abilities.
Champions
Battle Tactics
It is suggested that players smash them as quickly as possible, and use melee attacks instead of ranged ones, as when fought close-up, they will use their daggers instead of the totem-summoning attack, which deals much less damage than their alternative move.
Smash 50 Witch Doctors as
(10) Roman Commander, Baseball Fielder, Tomahawk Warrior, Revolutionary Soldier and Paintball Player for 50 points each.
(13) Classic King for 100 points.
(14) Tiger Woman, Fly Monster, and Monster Scientist for 50 points each.
Note: Smashing Witch Doctor Champions does not count.
Trivia
The player is rewarded a mask upon defeating the Witch Doctor which helps as shield in future fights.
Gallery
Enemies
Regular enemies
Alpha Wolf · Ballista · Bewitched Treeman · Cannon · Corsair · Crimson Leg Crawler · Crooked Tooth Brute · Crooked Tooth Crusher · Crooked Tooth Crusher · Crooked Tooth Defender · Crooked Tooth Fizzler · Crooked Tooth Hunter · Crooked Tooth Hunter · Crooked Tooth Hurler · Crooked Tooth Piper · Crooked Tooth Ruffian · Crooked Tooth Shaman · Crooked Tooth Smasher · Desperado · Dragon Cult Brawler · Dragon Cult Crusher · Dragon Cult Piper · Dragoon · Ember Hatchling · Fire Hound · Fire Monkey · Forest Leafling · Forest Leafling · Forest Treeman · Grenadier · Grey Wolf, Summoned Wolf, Boom Shroom, Spore Shroom, Sweet Tooth Fizzler · Hophop Shroom · Hophop Shroom · Hunter · Icefoot Ruffian · Jester's Crony · Jungle Trickster · Lieutenant Gruffy · Medic · Mudfoot Brawler · Mudfoot Crusher · Mudfoot Defender · Mudfoot Hunter · Mudfoot Piper · Mudfoot Shaman · Musketeer · Pirate Cannon · Razorback · Scallywag · Scout · Skeleton Defender · Skeleton Fighter · Skeleton Fighter Crooked Tooth Brawler · Skeleton Musketeer · Skeleton Swashbuckler · Skeleton Vanguard · Spider Egg · Spider Mound · Spiderling · Summoned Gremlin Spawned Gremlin · Moon Gazer · Summoned Skeleton · Summoned Spider · Sweet Tooth Fizzler · Sweet Tooth Ruffian · Tiger · Witch Doctor
Champions
Arrgo Chief of Cargo · Beastmaster Wulfgar · Big Bad Wolf · Black Widow · Bork, Guardian of Fire · Bull the Armsmaster · Captain Dreadleg · Captain Pete · Charr the Gatekeeper · Chlora the Fungomancer · Chug · Chunk the Tiger · Crazy Kotaki · Crikey the Kraken · Crimson Leg Gargantuan · Derp the Internet Troll · Fireling · Giant Spider · Gnaw, Guardian of Strength · Grollsh, the Nightkeeper · Guardsman Bob · Gunnar Grenade · Harry Grenade · Hoodai · Itsy Bitsy · Jester · Karna Itta · Krash, Arena Champion · Krook, Guardian of War · Lieutenant Gruffy · Maggut the Beast Tamer · Mandreas · Monkey Kong · Mukko Serioso · Ouch Ouch · Packmaster Uhrik · Pieromancer Elementius · Quicksword Billy · Rack · Rall · Rattely Bonesly · Redwing the Firequeen · Rezaruh the Ancient · Rootbrick · Schweethurt · Siegemaster Orrok · Skimpy Bob · Skram Gatecrasher · Smuggy Totembound · Temper · The Bridge Troll · The Chamberlain · The Weaver · Tic, Tac, Toe · Tikka Bomba · Totemus Maximus · Two Eyed Willy · Twonky the Laboratorist · Tyrant, the Drill Sergeant · Uggluk Gatekeeper · Umad Thundercrusher · Village Outcast · Warchief Clubhead · Warchief Grogrog · Warlock Zug Zug · Wrinkles Barrelgut · Zephyr, the Aeromancer
Ad blocker interference detected!
Wikia is a free-to-use site that makes money from advertising. We have a modified experience for viewers using ad blockers

Wikia is not accessible if you've made further modifications. Remove the custom ad blocker rule(s) and the page will load as expected.